Copyright 2000, 2009 Alexander Milukov, All rights reserved
Unauthorized publishing, translation or reproduction in any form is prohibited.
Need a permission ? contact the author
Really "The Best in Digital Media" ?
DISCLAIMER:
This article is only author's humble opinion. The screenshots will illustrate some impressions of the author but these may differ from latest versions of the software you have.

Microsoft says: "new technologies and features make it easy to share digital photos, videos and music. Windows Me includes Movie Maker, Windows Media Player 7, new imaging technology for digital still cameras and scanners, and superior 3D graphics and sound support."

If you have visited my site last year, you will not wonder why I wanted to test Millennium so much.

So, lets begin. I have had the following hardware configuration:
Intel Pentium II 400 MHz CPU
Lucky Star ABX2V jumperless motherboard (Intel 440BX chipset, Award BIOS 4.51)
128 MB RAM (DIMM SDRAM, PC133 certified)
8.4 GB ATA-66 & 4.3 GB UDMA Fujitsu hard disks
ASUS E608 DVD-ROM & HP CD-Writer 7200+
S3 Sonic Vibes PCI audio card
ASUS V3400 TNT with video i/o AGP card
FlyVideo TV tuner with video in PCI card
Compex RL2000 PCI LAN card
| | |
| --- | --- |
| After a less than one hour I had Millennium installed. I used a second physical drive (it has 2,5 GB FAT32 partition) to make the installation completely independent and to have a chance to get things back. Need to say, I have finally deleted this monster, freeing up more than 370 MB of hard disk space. | |

I have not read Microsoft hardware compatibility list (HCL) to ensure all my hardware will be supported. My fault... But, they said: "Windows Me offers the broadest support for consumer hardware and software". Really, in my case Windows Me has not detected all these
S3 Sonic Vibes PCI audio card
FlyVideo TV tuner with video in PCI card
Compex RL2000 PCI LAN card
plus no any video capture support for ASUS V3400 TNT with video i/o AGP card.

After I have started the Windows Movie Maker, I got the friendly message:




and Maker left me alone. I saw no reason why movie can not be silent, but after running OEM Setup from CD shipped with the sound card it become audible. You will laugh but the driver dated '97 worked fine with Windows Me. It seems there is no difference between Me and Windows 95 plus MSIE 5.5... ah... sorry, there is Windows Movie Maker too :)

I have read the WMM help about the system requirements. Nothing too special or exotics. But, I still can not see why it needs soundcard to start :(


| | |
| --- | --- |
| Next, I checked out what formats WMM can write to. Hmm... not too rich. And, again, the private Microsoft format. We all have seen the evolution of incompatible video formats used in different versions of Windows. They started with .avi, next one was Direct Show variant of .avi, after it was Advanced Streaming Format (.asf) and now we have another one - .wmv. New and unsupported outside the Windows Millennium Edition. Lucky start! | |

Surely, I have created a few sample movies to feel the taste of Millennium. It was very enjoyable to see how dull and ugly can be "The Best in Digital Media" application.

First, pretending to be smart, it hangs for a time even on short movies, doing a "scene changes" detection. This results in movies were splitten to clips, but each time I import my videos I saw the message like this one: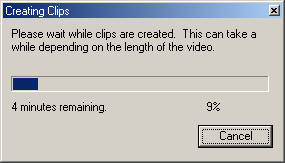 The source movie was Motion-JPEG compressed avi file about 6 minutes long. I was surprised. WMM is first such an application that does not start editing immediately.

The best is, you can not minimize the WMM window using "Windows+M" hotkey to get access to desktop icons while importing movies. Hope it will be fixed...

As I am the author of another video editing package, it was very interesting for me to see how Windows Movie Maker can arrange the videos and how can it enhance them. It was very offensive to watch how WMM maintains the copyrights and authorship of videos it imports.

I have created a sample movie with copyright information and then I have imported it into WMM. Lets see what happens.




Finally! No any source authorships mentioned in WMM.


| | |
| --- | --- |
| It looks like I became the author of the clip I just imported. Want to see how Microsoft talks about the copyrights ? It seems to be different from that WMM does. Are you lawyer ? Win a tenth of million dollars by Microsoft! :) | |

Though, WMM allows you to set some properties of created clips, but it is rather humorous when compared to AVI format...


| | |
| --- | --- |
| To make my impressions even deeper, I have used the most advanced feature of Windows Movie Maker called transitions. They are really easy to use, but nothing more. Transition makes two clips to smoothly fade one into another. I have created one still image slide exactly as described in help and then, created a transition. | |

For me, it was very suspicious that clip should be of some exact size, but it seems to be true. See the source video I have had and the resulting one. The red arrow indicates where WMM has added a black stripes to make the movie of "right" size.




Another interesting feature of WMM is the narration adding. In other words, it is a possibility to add some reader comments to the movie using a microphone. May be it is funny, yes, but resulting videos will look even more amateurish. Also, look at Microsoft sound recording tips. They are sometimes really fun. It seems MS do not have enough money to pay their technical writers...


| | |
| --- | --- |
| I have visited the capture dialog box even if Millennium said I have no video devices. I wanted to know which audio formats are supported. Not surprisingly. Windows Media Audio only. Lets say good-bye to your CD collection sound quality. Redmond allows you up to 128 kbits/s while true CD uses more than 680 kbits/s. Yes, I see the compression cuts off the inaudible sound components, but who has detected that I can hear only a fifth of whole stream ? | |
| | |
| --- | --- |
| Next thing I have to test was video compression options. Once more, there is nothing except Windows Media Video... Strange there is no PAL or SECAM formats, but the highest possible bitrate of 768 kbps is ABSOLUTELY strange. Look here how great bandwidth offers you the Microsoft MPEG4 v3 video codec, missing in Me. Current WMM looks like a stripped down version of it, not as the step to the future. You may object me, "the less are bitrates, the smaller are movie files ". But, you see, a single CD-R disk costs about a dollar, while it can store about a hour of VHS quality video. What you prefer, to spend another dollar or get a half-quality videos ? | |

A few words about the video quality.
I took the same video clip and tried to play it using my AVIedit and Windows Media Player 7. Clip is 688x560 (it was cropped from 704x576 movie) Motion-JPEG compressed one.




Please do not misunderstand me, I like some funny skins too, but what is the reason for you to buy an 19" monitor ?


Now you must be ready for endless laugh

Windows Millennium uses some multimedia components dated 1997, 1995 and even 1992... I have tested my AVIedit under Windows Me (by the way, it works excellent) and, surely I have checked which codecs are available via ICM.

Maybe someone in Redmond have so strange taste of humour, I'm not sure, but the distribution of totally outdated codecs in OS called "new and the best" is, at least, nonsense. You could see the codec versions at screenshot.

Again, the way of codec usage remains the same as in earlier Windows 95. For fun, I have added a number of Motion-JPEG codecs by editing the system.ini in Notepad. Very strange, there is no any Microsoft MPEG4 codecs available.











After I have noticed such a "novelty" of the Windows Millennium, I have explored some other files. Did you know the .WMZ files format ? These are the files where Windows Media Player stores its new skinable interface. In my case, G:\Program Files\Windows Media Player\SKINS. It would be even not interesting, but the WMZ format does exactly match to PKWare ZIP files format. See the listing of such a file taken from the PKUNZIP.EXE dated 1994. Why Microsoft wanted to rename ZIP to WMZ ? Millennium Zip ?

Remember I have told you that Windows Me took about 370 megabytes of my hard disk. Note, I chose a custom setup and have not installed some applications to minimize the space occupied. Among others, I missed Outlook. Now, when I tried to send my movies using Windows Movie Maker, it asked me to update setup with necessary files (including Outlook too). So, what is the difference between <any video editor> plus Windows 98 plus Outlook and the Windows Millennium Movie Maker ? Where is the revolutionary improvement ?

I have lost any patience after I checked out how the Windows Movie Maker tour is stored. In the directory G:\Program Files\Movie Maker\TOUR\SHOWME I found five animated GIF files more than 10 megabytes in total size. Note, it is my hard disk, not the Millennium Recycle Bin. If each respectable application will bring to me such a "welcome" then I never will have enough free disk space to work.

Here the local price for Windows 98 is equivalent to about 70 dollars, while the Millennium costs about $160 (box). I said, 90 dollars for WMM only ? It is too expensive. For me personally, I decided "the best news are no news at all".